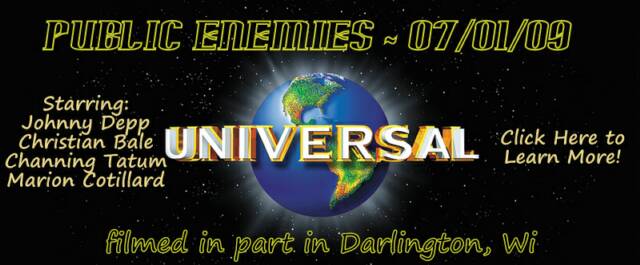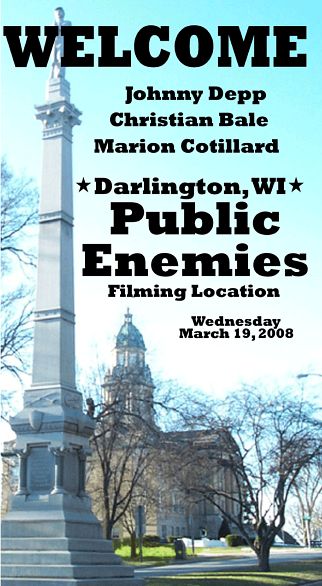 In March of 2008 Universal Studios converged upon Darlington's Main Street in order to shoot a portion of its film, Public Enemies, at the Lafayette County Courthouse. The movie was directed by Michael Mann and starred superstar Johnny Depp and Academy Award Winner Marion Cotillard. While work was done in 2008, the movie was not released until July 1, 2009.
Director Michael Mann selected the courthouse in Darlington after first visiting it and determining it was the perfect setting for the courtroom scenes in the movie. The Lafayette County Courthouse was constructed in 1905 and completed in 1907. It was exactly what Director Mann was looking for to shoot his movie based upon the true story of legendary Depression-era outlaw John Dillinger.
Thanks to the generous donation of one Lafayette County man, Matthew Murphy, the courthouse has the distinction of being the only courthouse in Wisconsin constructed with funds given to the county by one individual. It is on the National Register of Historic Places. The courthouse remains in full operation today. Visitors are welcome during normal operating hours, which are weekdays from 8:00 AM until 4:30 PM. The courthouse is prominently situated on the top of Main Street (627 Main Street).