Annual Festivals & Events
There's so much to see and do in Darlington.  Here is just a glimpse at some of our annual events.
City Wide Garage Sale April 28th and 29th

Fiesta Latina ~ Cinco De Mayo 2nd Saturday in May

Saturday Morning Farmers Market 8 am-Noon @ the Festival Grounds next to Casey's May-Oct.

Night Markets

Memorial Day Parade (May)

Darlington Canoe Festival June 9th-1th, 2023

Murph Classic (June)

Cruisin for a Cause Car Show (June)

Relay for Life (June)
Lafayette County Fair   July 12-16, 2023

Tunes at Twilight Sundays (June - July)

Pecatonica Valley Antique Days 2nd weekend in September

Witches, Warlocks & Wine Walk (October)

Holiday Festivities and Santa 1st Saturday in December
Hosted annually the second Saturday in May at the Festival Grounds on Main Street
The festival kicks off at 11 am at the festival grounds on Main Street. We start off the day with children games, soccer and basketball tournaments. Food vendors offer authentic Latin and American Cuisine. Music and demonstrations of salsa making and salsa dancing are featured. A Mariachi Band will perform in the afternoon and the evening is reserved for dancing accompanied by an authentic Hispanic Orchestra. Fun for the whole family!
Memorial Day Parade
Hosted Annually on Memorial Day
Main Street, Darlington, 9:00 AM
This meaningful tribute to our Nation's Veterans includes a short parade, memorial service, releasing of white doves, music, and more. Hosted by the Bates-O'Brien-Howe-Wiegel-Roelli American Legion Post.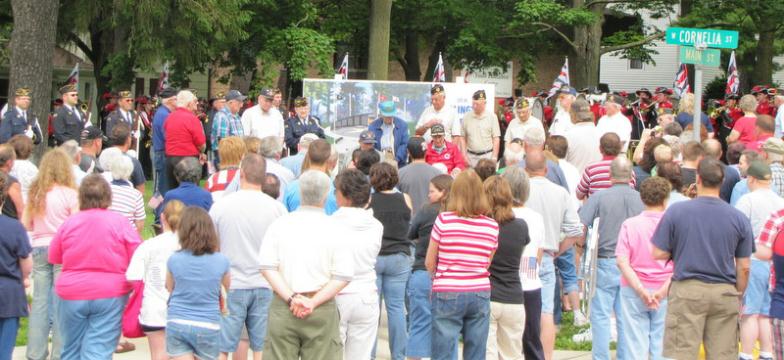 Hosted the second full weekend annually in June
June 9-11, 2023
Check out  Darlington Canoe Festival on Facebook for a complete schedule of events!
Interested in participating in the parade? Fill out the Parade Entry Form
Knights of Columbus' Murph Classic
Midway thrills, 4-H and FFA exhibits and judging, demonstrations, grandstand shows, tractor pulls, food and fun, and much more.
Lafayette County Fairgrounds; Louisa Street; Darlington
Tunes at Twilight
Sundays, June-July.
Pecatonica Valley Antique Days
Hosted the first weekend annually after Labor Day
Two days of flea markets, antique tractors, and machinery displays.
Lafayette County Fairgrounds; Louisa Street; Darlington
Christmas Weekend and Lighted Laps/Living Windows
Hosted the first Saturday annually in December
Kick off Saturday night with Living Windows at participating merchants. Then enjoy our Lighted Laps  & Parade on Main Street.  End your evening with a drive through Riverside Reflections' outdoor lighted display, and a visit from Santa!! Christmas carols, hot chocolate, bonfires.  Fun for the whole family!