Elections in 2024
Spring Primary                                                                    February 20, 2024 (if necessary)
Spring Election & Presidential Preference Primary    April 2, 2024
Primary Election                                                                 August 13, 2024
General Election                                                                  November 5, 2024
Absentee Voting
Any qualified elector who is unable to appear at the polling place on election day may request to vote an absentee ballot. A qualified elector is any U.S. citizen who will be 18 years of age or older on election day, who has resided in the ward of the municipality where he or she wishes to vote for at least 28 consecutive days before the election. The elector must also be registered to receive an absentee ballot. Voters (some exceptions apply) requesting an absentee ballot by mail must provide a copy of their proof of identification along with the absentee ballot request. Voters voting absentee ballots in the Clerk's office need to provide proof of identification before receiving a ballot. Click here for more information.
My Vote Wisconsin
Visit the MyVote Wisconsin Website, Where do I vote? to look up your voter record. There you can check your voter status, check your polling place location, and see a sample ballot (for any recent or upcoming election(s)) for anyone who lives at a specific address (anonymous search). You can also check on the status for a Provisional Vote that you recently cast in an election.
Voting Locations and Hours
The following polling place in the City of Darlington will be open from 7:00 am to 8:00 pm on Election Day:
The polling place for Wards 1, 2, 3, 4, 5, and 6 is located in the Municipal Building Senior Center, 627 Main Street, Darlington, Wisconsin.
City Ward Map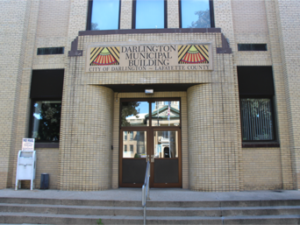 Information on Running for City Council
Information about and paperwork required for running for a City Council Alderperson position may be obtained through the City Clerk or through the Wisconsin Election Commission website for Local Non-Partisan Candidates.
Election Inspector Interest
To be an Election Inspector (also known as a poll worker), a person must:
Be a qualified elector in Lafayette County (i.e., an adult U.S. citizen who has resided in Lafayette County for 28 consecutive days and is not otherwise disqualified from voting).
Be able to fluently speak, read, and write the English language.
Have strong clerical, problem-solving, and communication skills.
Possess good handwriting, vision, hearing, attention to detail, and the ability to follow directions.
NOT be a candidate for any office on the ballot for the election taking place.
Election Inspectors help ensure an open, accurate, and fair election. Some of the duties include issuing ballots, registering voters, monitoring the voting equipment, and completing required paperwork — training provided by the City Clerk and the Wisconsin Elections Commission.
If you are interested in serving the City of Darlington in this capacity, please contact Amy Johnson, Deputy Clerk-Treasurer, at 776-4971.