Welcome to the Darlington Chamber / Main Street Program website.  Whether you are interested in history, recreation, shopping or more, it's all right here in Darlington.  We invite you to explore the many links hosted here and then come explore Darlington, "The Pearl of the Pecatonica."
For local businesses and visitor information please click here!
Chamber of Commerce
Jason Funkhouser @
Darlington Chamber / Main Street
447 Main Street
Darlington, WI  53530
Phone: (608) 776-3067
Email: [email protected]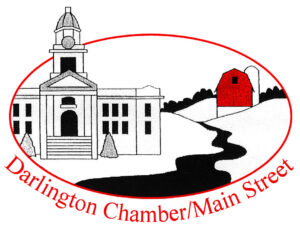 Welcome to Darlington!
My name is Jason Funkhouser,  and I have the pleasure of serving as the "New" Director for the Darlington Chamber/Main Street.  My office is located at 447 Main Street located at the top of Main Street just across from the Veterans Memorial Park. Office hours  are,  Monday, Wednesday, and Thursday from 9:00am-3:00 pm and Fridays 2:00pm-4:00pm( begining in September). Please feel free to  stop in, and chat, or to  find  info on Darlington and surrounding communities in the driftless area!  Darlington and myself welcome you to " Dare to Explore" what Darlington has to offer!
Darlington has a historically rich Main Street complete with a boulevard( not common on most Main Streets across the state) with many properties listed on the National Register of Historic Places.  These beautiful historic structures are thriving with commerce, and the downtown offers everything from home decor, to artisan finds to clothing and so much more. From fun and quirky breweries, to down home cooking, to a  stay at one of  our many overnight accomidations, fit for any budget.
Darlington's festival season kicks off  in May with our annual Cinco De Mayo -Fiesta Latina celebration.  June then gives way to our famous "Canoe Festival".  July ushers in our "Tunes at Twilight", concerts in the park series.  September kicks of Autumn, with our "Fall in Love with Darlington" outdoor night market, featuring local vendors, food, and live music..  November and December ring in the holiday  season with Christmas and Holiday open houses, holiday lights, holiday treats, and our lighted "Riverside Reflections", as well as Darlingtons (Annual) holiday parade  held the first Saturday each December! And no, small town holiday would be complete, without a visit from Santa, who is welcomed by all  young, and young at heart,  each December,following the parade.
This community of nearly 2,500 is also home to the county seat for Lafayette County. The historic courthouse, a symbol of pride for the community, features a tiffany glass rotunda, copper and marble fixtures, as well as a fountain. You may have seen a glimps of this beautiful building in the Johnny Depp 2009 movie Public Enimies!
Darlington, rich in history, is also a community with all the amenities one would hope for while still maintaining a charming small-town atmosphere. As a transplant to Darlington some 15 years ago,  I can truly say,  Darlington offers a little  something for everyone. From fun retail shops, and home cooked meals like "Mom" would make, as well as ethnic cusine. These can all be found in our historic, downtown business district. Whether you "Dare to Explore Darlington" for work, home, play, or simply to take in the beautiful scenery, whether by foot, bike, motorcyle, canoe, horse, ATV or car. Darlington has something for you!
Thank you for checking out a little of what Darlington, "The Pearl of the Peccatonica" has to offer!
And, I hope we'll  see you in Darlington soon!
Remember, Stop, Smile and Say Hi!
Jason
Darlington
Chamber- Main Street Directo