Meet the guardians of your hometown!
"In a republic that honors the core ideals of democracy, the greatest amount of power is given to those called Guardians.  Only those with the most impeccable character are given the responsibility of protecting the democracy."  - Plato
Dear Friends,
Thank you for visiting our site.  I hope you find it to be a useful resource in learning more about our agency, the services we provide, and how to reach us.  While there is an abundance of information to assimilate, there is one main reflection I hope you will leave this site with - Darlington Police Officers are committed to preserving your safety and happiness.
I am honored to lead such a progressive agency comprised of a staff who apply the utmost excellence, integrity, and initiative every day they work.  Every full-time officer employed by this agency is a resident of Darlington and I believe their passion for the community in which they work and reside is apparent in the friendly, caring, and professional manner they carry out their duties every day.
Please, never hesitate to involve us with your concerns.  We are committed to the philosophy of community-oriented policing whereby we place considerable value in responses that are preventive in nature, rather than reactive, and that engage other public agencies, the community, and the private sector in addressing concerns before they become problems.  The fact is, we cannot do this job without you.
In closing, I would simply like to thank you once again for visiting our site.  Please visit often as it will be updated frequently.  I wish each of you continued safety and happiness in all your future endeavors.
Very Truly Yours,
Jason King
Chief of Police
Phone: (608) 776-4981
Email: [email protected]
Chief Jason King is a life-long resident of Darlington and a graduate of the Darlington High School. He possesses a Master's Degree in Criminal Justice Administration from the University of Wisconsin in Platteville. Chief King began with the Darlington Police Department in October of 1993 as part of their field training program and started patrol work in April of 1994 thanks to a federal work-study grant program. In addition to his college education, Chief King is a licensed EMT, has acquired thousands of hours of continuing education, and is a graduate of the University of Wisconsin-Extension's Community Leadership Alliance and the University of Wisconsin Law School's Problem Oriented Leadership Institute for Chief Executives.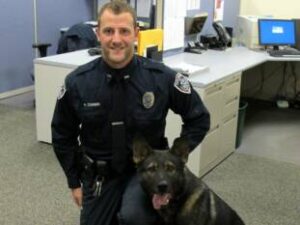 Sgt. Benjamin Conway
Serving Since 2011
Day Shift Operations & Investigations
Bachelor's Degree in Criminal Justice
Certified Firefighter and Emergency Medical Responder
608-776-4984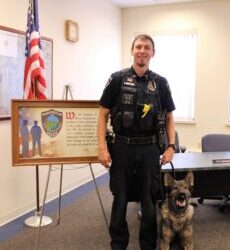 Officer Nicholas Mantsch & Ace
Serving Since 2016
Night Shift Operations & Canine Handler
Bachelor's Degree in Natural Resources - Law Enforcement
Certified Emergency Medical Responder
608-776-4985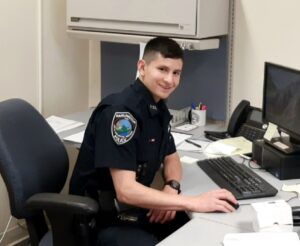 Officer Neftali Gutierrez
Serving Since 2021
Day Shift Operations & Hispanic Liaison Officer
Associate Degree in Automotive Technology
Graduate of Madison College Police Recruit School
Certified Emergency Medical Responder
608-776-4982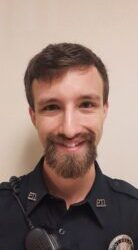 Officer Jaxson Lamb
Serving Since 2022
Night Shift Operations
Associate Degree in Criminal Justice
Certified Emergency Medical Responder
608-776-4983
Executive Assistant
Kim Winslow
608-776-4970
Part-time Police Officers