Records
PUBLIC NOTICE – ACCESS TO PUBLIC RECORDS
Pursuant to Section 19.34 WI Stats.
The City of Darlington Police Department is a local government agency charged with the responsibility of engaging in traditional policing services, including, but not limited to, enforcing laws and ordinances, maintaining order, and investigating criminal offenses. The Department is comprised of eight police officers and one civilian employee, and is supervised by the city council and Mayor.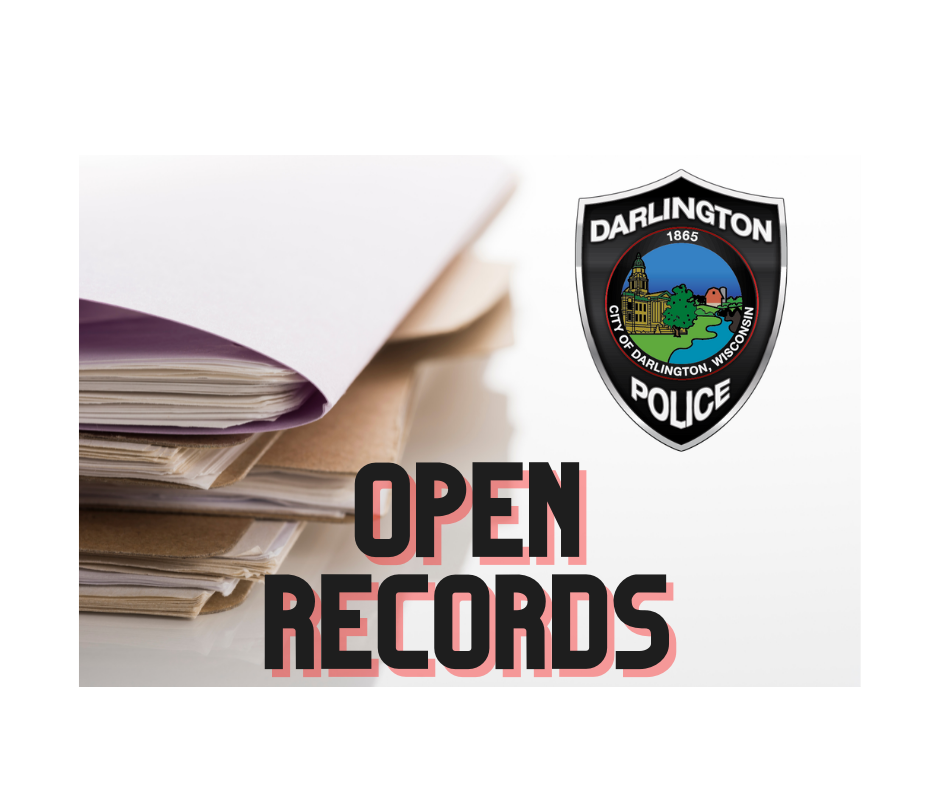 The chain of command is as follows:  MAYOR > CHIEF OF POLICE > SERGEANT OF POLICE > FULL TIME SWORN OFFICERS > PART TIME SWORN OFFICERS > NON-SWORN CIVILIAN EMPLOYEES.
Except as otherwise provided by law, any requester has the right to inspect any record or document maintained by this authority.
Legal Custodian
The legal custodian of documents for the Darlington Police Department is Chief of Police Jason King. In his absence, Sergeant Ben Conway is the legal custodian.
Time and Place for Access
The public may obtain information and access to records, make requests for records, or obtain copies of records in the custody of this authority by mail, by phone, in person, or by email:
Office of Chief of Police
627 Main Street
Darlington, WI 53530
Times: Tuesday through Friday 8am – 6pm
Phone: 608-776-4981
Copies/Fees
Any requester has the right to make or receive a copy of a record which appears in written form, photographs, audio tapes, and video tapes. It is the policy of this office to provide copies of records to any requester at a rate not to exceed the actual and direct costs associated with fulfilling the request.
Fees:
"An authority may impose a fee upon the requester of a copy of a record which may not exceed the actual, necessary and direct cost of reproduction and transcription of the record, unless a fee is otherwise specifically established or authorized to be established by law." Wis. Stat. § 19.35(3)(a).
Public Records Request Fees
Fees below reflect actual costs of reproduction
Hard Copies
Includes all paper copies
$.10 per page
Electronic Copies
Email
• PDF, etc.
Not all records on file at DPD can be sent electronically due to their size.
No fee
In rare instances, specialized skills, equipment, or technology, may result in copy costs.
Digital
Copies
Includes copying records already in digital format onto physical medium for distribution.
DVD $1.00
Flash drive $7.00
In rare instances, requests for records containing large amounts of digital data may require larger forms of medium thereby increasing the fee.
Location
Fees
May only be imposed if the cost of location alone is $50 or more. Includes searching for and identifying responsive records but does not include redaction.
$16.00 per hour
In rare instances, an employee with special skills may be necessary to conduct a search and a higher hourly rate may be assessed.
Postage
Includes direct costs associated with mailing requested records to the requestor. Costs vary depending upon type of mailing/packaging.
Current USPS postage rate.